Isa Genzken
Exhibitions at Galerie Buchholz
October 2020
Isa Genzken
Nüsschen
17 East 82nd Street, New York
November 2018
Isa Genzken
Außenprojekte
Fasanenstraße 30, Berlin
November 2017
Cosmic Communities:
Coming Out Into Outer Space –
Homofuturism, Applied Psychedelia & Magic Connectivity
an exhibition organized by
Diedrich Diederichsen &
Christopher Müller
feat. Marcus Behmer, Stefan George, Rainer Werner Fassbinder,
Hans Henny Jahnn, Lutz Bacher, Hans Kayser, Ludwig Gosewitz,
Jordan Belson, Hapshash and the Coloured Coat, The Fool,
Rogério Duarte, The Red Krayola/
Mayo Thompson, Walter de Maria, Sigmar Polke, Emil Schult,
Isaac Abrams, John McCracken, Pedro Bell, Kai Althoff,
Henrik Olesen, Öyvind Fahlström, Karlheinz Stockhausen,
Sun Ra, Hartmut Geerken, Albert Oehlen, Jack Goldstein,
Jutta Koether, Isa Genzken, Palermo, John Coltrane, Tony Conrad
17 East 82nd Street, New York
November 2016
Isa Genzken
Portraits
17 East 82nd Street, New York
May 2015
Isa Genzken
"El Salvador"
Fasanenstraße 30, Berlin
March 2013
Film screening
Isa Genzken
Delphi Filmpalast, Kantstraße 12a, Berlin
Isa Genzken
"Early Works"
Fasanenstraße 30, Berlin
September 2011
Tomma Abts Nairy Baghramian
Cosima von Bonin/
Moritz von Oswald, Elektronik
Tony Conrad Simon Denny
Lukas Duwenhögger
Thomas Eggerer
Cerith Wyn Evans
Vincent Fecteau Morgan Fisher
Isa Genzken Jack Goldstein
Julian Göthe Richard Hawkins
Jochen Klein John Kelsey
Jutta Koether Michael Krebber
Mark Leckey Sam Lewitt
Lucy McKenzie Henrik Olesen
Paulina Olowska Silke Otto-Knapp
Mathias Poledna Florian Pumhösl
R.H. Quaytman Willem de Rooij
Frances Stark Josef Strau
Stefan Thater Cheyney Thompson
Wolfgang Tillmans Danh Vo
Martin Wong Katharina Wulff
"Quodlibet III - Alphabets and Instruments"
Fasanenstraße 30, Berlin
October 2010
Wolfgang Tillmans
Isa Genzken
abc - art berlin contemporary
November 2009
Isa Genzken

"Wind"
Fasanenstraße 30, Berlin
May 2009
Tomma Abts, Tony Conrad,
Mark Leckey, Patrick Procktor,
Vincent Fecteau, Marcus Behmer,
Alice Horodisch-Garnman,
Benoît Hennebert, Lucy McKenzie,
Henrik Olesen, Cheyney Thompson,
Eileen Quinlan, Jutta Koether,
Paulina Olowska, Aaron Curry,
Enrico David, Simon Thompson,
Peter Doig, Christiane Fochtmann,
Jochen Klein, Lukas Duwenhögger,
Cosima von Bonin, Cerith Wyn
Evans, Julie Ault, Danh Vo,
Morgan Fisher, Frances Stark,
Josef Strau, Isa Genzken,
Wolfgang Tillmans, Johann Sperl,
Jack Goldstein, James Welling,
Charles Henri Ford, Julian Göthe,
Richard Hawkins, Michael Krebber,
Thomas Eggerer, Willem de Rooij,
Simon Denny, Nick Austin,
Stefan Thater, Nina Könnemann,
David Lieske, Silke Otto-Knapp,
Mathias Poledna, Florian Pumhösl,
Sam Lewitt, T.J. Wilcox,
Nick Mauss, Katharina Wulff
"Quodlibet II"
Neven-DuMont-Straße 17 & Elisenstraße 4-6, Köln
April 2007
Fong-Leng
Keren Cytter
Isa Genzken
"Birds in a Park"
an exhibition by Willem de Rooij
Elisenstraße 4-6, Köln
November 2005
Isa Genzken
"Kinder filmen"
Neven-DuMont-Straße 17, Köln
July 2004
Tomma Abts Abel Auer
Henning Bohl Bonnie Camplin
Bjorn Copeland Enrico David
Vincent Fecteau Isa Genzken
Julian Göthe Michael Hakimi
Jutta Koether Nina Könnemann
Armin Krämer Mark Leckey
Josef Strau Stefan Thater
Katharina Wulff
Teil 1 "Müllberg"
Neven-DuMont-Straße 17, Köln
November 2002
Isa Genzken
"Haare wachsen wie sie wollen"
Galerie Meerrettich, im Glaspavillon an der Volksbühne, Rosa-Luxemburg-Platz, Berlin
November 2001
Isa Genzken

Neven-DuMont-Straße 17, Köln
June 2001
Isa Genzken
"Spiegel, 1991"
Art Basel, Art Unlimited
April 1998
Isa Genzken
"Neue Arbeiten"
Neven-DuMont-Straße 17, Köln
July 1994
Isa Genzken
"Neue Arbeiten"
Neven-DuMont-Straße 17, Köln
March 1992
Isa Genzken
"More Light Research"
Daniel Buchholz, Venloer Straße 21, Köln
October 1989
Isa Genzken
Daniel Buchholz, Venloer Straße 21, Köln
April 1988
Isa Genzken
"Neue Arbeiten"
Daniel Buchholz, Venloer Straße 21, Köln
November 1987
Isa Genzken
"Weltempfänger"
Musix GmbH Hohenzollernring 67-69, Köln
Publications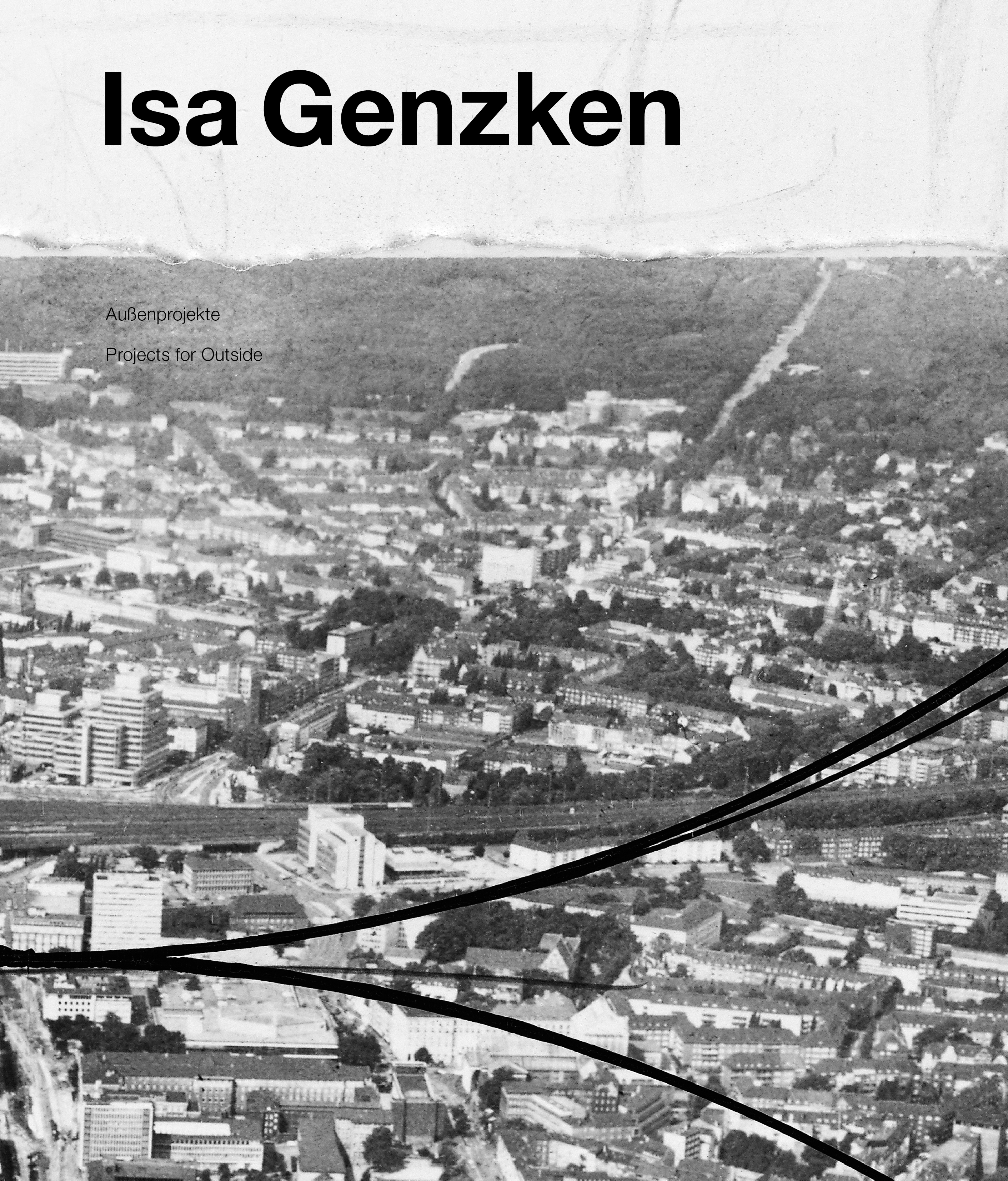 Isa Genzken
Außenprojekte
Projects for Outside

2020, 192 pages, hardcover, dust jacket, fully illustrated in color, 28 x 24 cm

Euro 48,-
The book introduces Isa Genzken's complete 42 projects for outdoor sculptures, from the years 1984-2016. Each project is extensively illustrated, with accompanying texts by Manfred Hermes both in German and English. In addition, the book contains an introductory text by Susanne Kleine (also in German and English), which was written for the exhibition "Isa Genzken: Models for Outdoor Projects", held at the Bundeskunsthalle Bonn in 2016.
Isa Genzken
"Early Works"

2014, 160 pages, fully illustrated, Owrps, 25,3 x 18 cm
Edition 1000

Euro 32,-
This catalogue is published on the occasion of Isa Genzken's exhibition "Early Works" that took place in our Berlin gallery in 2013. The book contains a new essay by B.H.D. Buchloh, both in English and in German as well as an extensive documentation on the artist's early work starting in the late 1960s.
Special edition: Catalogue in slipcase with signed inkjet print. Ex. 10
Isa Genzken
"Berlin, 1973"

2013, artist book facsimile, 78 pages, b/w images, mounted on cardboard, linen binding, slipcase, 20 x 30 x 7,5 cm
Edition 100, sign. & num.

out of print
"Berlin, 1973" is the facsimile of an artist book by Isa Genzken with 78 b/w photographs from street vistas and architecture in Berlin of which the artist had produced a prototype in 1973.