Simon Denny
Exhibitions at Galerie Buchholz
April 2018
Simon Denny
Games of Decentralized Life
Neven-DuMont-Straße 17, Köln
January 2014
Simon Denny
"Disruptive Berlin"
Fasanenstraße 30, Berlin
April 2012
Elie Nadelman
Joseph Cornell
H.C. Westermann
Rodney Quiriconi
Ed Flood
Christina Ramberg
Ron Nagle
Vincent Fecteau
Tomma Abts
Richard Hawkins
Simon Denny
K8 Hardy
"Automaton"
Elisenstraße 4-6, Köln
September 2011
Tomma Abts Nairy Baghramian
Cosima von Bonin/
Moritz von Oswald, Elektronik
Tony Conrad Simon Denny
Lukas Duwenhögger
Thomas Eggerer
Cerith Wyn Evans
Vincent Fecteau Morgan Fisher
Isa Genzken Jack Goldstein
Julian Göthe Richard Hawkins
Jochen Klein John Kelsey
Jutta Koether Michael Krebber
Mark Leckey Sam Lewitt
Lucy McKenzie Henrik Olesen
Paulina Olowska Silke Otto-Knapp
Mathias Poledna Florian Pumhösl
R.H. Quaytman Willem de Rooij
Frances Stark Josef Strau
Stefan Thater Cheyney Thompson
Wolfgang Tillmans Danh Vo
Martin Wong Katharina Wulff
"Quodlibet III - Alphabets and Instruments"
Fasanenstraße 30, Berlin
January 2011
Presentation of the new publication
Simon Denny

"Video Aquarium Broadcast"
Fasanenstraße 30, Berlin
September 2009
Simon Denny

"Deep Sea Vaudeo"
Neven-DuMont-Straße 17 & Elisenstraße 4-6, Köln
Video screening
Michael Smith
Elisenstraße 4-6, Köln
Nick Austin
"Retirement"
Elisenstraße 4-6, Köln
May 2009
Tomma Abts, Tony Conrad,
Mark Leckey, Patrick Procktor,
Vincent Fecteau, Marcus Behmer,
Alice Horodisch-Garnman,
Benoît Hennebert, Lucy McKenzie,
Henrik Olesen, Cheyney Thompson,
Eileen Quinlan, Jutta Koether,
Paulina Olowska, Aaron Curry,
Enrico David, Simon Thompson,
Peter Doig, Christiane Fochtmann,
Jochen Klein, Lukas Duwenhögger,
Cosima von Bonin, Cerith Wyn
Evans, Julie Ault, Danh Vo,
Morgan Fisher, Frances Stark,
Josef Strau, Isa Genzken,
Wolfgang Tillmans, Johann Sperl,
Jack Goldstein, James Welling,
Charles Henri Ford, Julian Göthe,
Richard Hawkins, Michael Krebber,
Thomas Eggerer, Willem de Rooij,
Simon Denny, Nick Austin,
Stefan Thater, Nina Könnemann,
David Lieske, Silke Otto-Knapp,
Mathias Poledna, Florian Pumhösl,
Sam Lewitt, T.J. Wilcox,
Nick Mauss, Katharina Wulff
"Quodlibet II"
Neven-DuMont-Straße 17 & Elisenstraße 4-6, Köln
Publications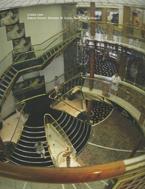 Simon Denny
"Cruise Line"

2011, 80 pages, fully illustrated in b/w, Owrps, 28 x 21,5 cm
The book is shrink-wrapped and contains 4 postcards.

Euro 24,-
This artist book accompanies Simon Denny's installation with the same title, that was first shown at Neuer Aachener Kunstverein. For this occasion new essays by Norman M. Klein and Mark von Schlegell have been commissioned. The book is published in collaboration with Neuer Aachener Kunstverein and Verlag der Buchhandlung Walther König, Köln.
Simon Denny
"Video Aquarium Broadcast"

2010, 268 pages, fully illustrated in colour and b/w, Owrps,
19 x 13,2 cm
Edition 1000

out of print
This new publication is the first comprehensive book on the work of Simon Denny. In the size of a standardized DVD cover the book features an illustrated overview on Simon Denny's exhibitions from 2008 to 2010, additional texts by Nicolas Ceccaldi, Simon Pound and an interview with the artist by Dan Arps. The publication is produced in collaboration with Michael Lett.