Henrik Olesen
Exhibitions at Galerie Buchholz
May 2020
Henrik Olesen
ab 22. Mai 2020
Neven-DuMont-Straße 17, Köln
May 2019
Henrik Olesen
17 East 82nd Street, New York
September 2018
Lutz Bacher
Caleb Considine
Vincent Fecteau
Rainald Goetz
Sergej Jensen
Jutta Koether
Michael Krebber
Monica Majoli
Albert Oehlen
Henrik Olesen
Heji Shin
Hölle
17 East 82nd Street, New York
November 2017
Cosmic Communities:
Coming Out Into Outer Space –
Homofuturism, Applied Psychedelia & Magic Connectivity
an exhibition organized by
Diedrich Diederichsen &
Christopher Müller
feat. Marcus Behmer, Stefan George, Rainer Werner Fassbinder,
Hans Henny Jahnn, Lutz Bacher, Hans Kayser, Ludwig Gosewitz,
Jordan Belson, Hapshash and the Coloured Coat, The Fool,
Rogério Duarte, The Red Krayola/
Mayo Thompson, Walter de Maria, Sigmar Polke, Emil Schult,
Isaac Abrams, John McCracken, Pedro Bell, Kai Althoff,
Henrik Olesen, Öyvind Fahlström, Karlheinz Stockhausen,
Sun Ra, Hartmut Geerken, Albert Oehlen, Jack Goldstein,
Jutta Koether, Isa Genzken, Palermo, John Coltrane, Tony Conrad
17 East 82nd Street, New York
January 2016
Henrik Olesen
17 East 82nd Street, New York
September 2013
Henrik Olesen
"Hysterical Men"
Fasanenstraße 30, Berlin
June 2012
Bücher, Manuskripte und Briefe von Herman Bang (1857-1912)
zusammengestellt von Henrik Olesen & Daniel Buchholz
Fasanenstraße 30, Berlin
September 2011
Tomma Abts Nairy Baghramian
Cosima von Bonin/
Moritz von Oswald, Elektronik
Tony Conrad Simon Denny
Lukas Duwenhögger
Thomas Eggerer
Cerith Wyn Evans
Vincent Fecteau Morgan Fisher
Isa Genzken Jack Goldstein
Julian Göthe Richard Hawkins
Jochen Klein John Kelsey
Jutta Koether Michael Krebber
Mark Leckey Sam Lewitt
Lucy McKenzie Henrik Olesen
Paulina Olowska Silke Otto-Knapp
Mathias Poledna Florian Pumhösl
R.H. Quaytman Willem de Rooij
Frances Stark Josef Strau
Stefan Thater Cheyney Thompson
Wolfgang Tillmans Danh Vo
Martin Wong Katharina Wulff
"Quodlibet III - Alphabets and Instruments"
Fasanenstraße 30, Berlin
Henrik Olesen/Danh Vo
"Master-Slave Dialectic"
Neven-DuMont-Straße 17, Köln
April 2010
Julian Göthe
Nairy Baghramian
Cerith Wyn Evans
Henrik Olesen
Michael Krebber
Cosima von Bonin
John Kelsey
Reena Spaulings
Elisenstraße 4-6, Köln
Henrik Olesen

"Mr. Knife & Mrs. Fork"
Art Cologne
May 2009
Tomma Abts, Tony Conrad,
Mark Leckey, Patrick Procktor,
Vincent Fecteau, Marcus Behmer,
Alice Horodisch-Garnman,
Benoît Hennebert, Lucy McKenzie,
Henrik Olesen, Cheyney Thompson,
Eileen Quinlan, Jutta Koether,
Paulina Olowska, Aaron Curry,
Enrico David, Simon Thompson,
Peter Doig, Christiane Fochtmann,
Jochen Klein, Lukas Duwenhögger,
Cosima von Bonin, Cerith Wyn
Evans, Julie Ault, Danh Vo,
Morgan Fisher, Frances Stark,
Josef Strau, Isa Genzken,
Wolfgang Tillmans, Johann Sperl,
Jack Goldstein, James Welling,
Charles Henri Ford, Julian Göthe,
Richard Hawkins, Michael Krebber,
Thomas Eggerer, Willem de Rooij,
Simon Denny, Nick Austin,
Stefan Thater, Nina Könnemann,
David Lieske, Silke Otto-Knapp,
Mathias Poledna, Florian Pumhösl,
Sam Lewitt, T.J. Wilcox,
Nick Mauss, Katharina Wulff
"Quodlibet II"
Neven-DuMont-Straße 17 & Elisenstraße 4-6, Köln
December 2008
Henrik Olesen

"How do I make myself a body?"
Fasanenstraße 30, Berlin
October 2007
Henrik Olesen

"Some Gay-Lesbian Artists and/or Artists relevant to Homo-Social Culture I - VII"
Neven-DuMont-Straße 17, Köln
October 2005
"Abschied von den Eltern"
Open Space, Art Cologne
Henrik Olesen
Neven-DuMont-Straße 17, Köln
September 2004
Thomas Eggerer Cerith Wyn Evans
Michael Fullerton Richard Hawkins
Anette Kelm David Lieske
Lucy McKenzie Henrik Olesen
Silke Otto-Knapp Mathias Poledna
Florian Pumhösl de Rijke / de Rooij
Josef Strau Cheyney Thompson
Christopher Williams Christopher Wool
Teil 2 "Quodlibet"
Neven-DuMont-Straße 17, Köln
January 2002
Henrik Olesen
"Sexuelle Zwischenstadien – Einführung in die Theorie der Homosexualität"
Neven-DuMont-Straße 17, Köln
Publications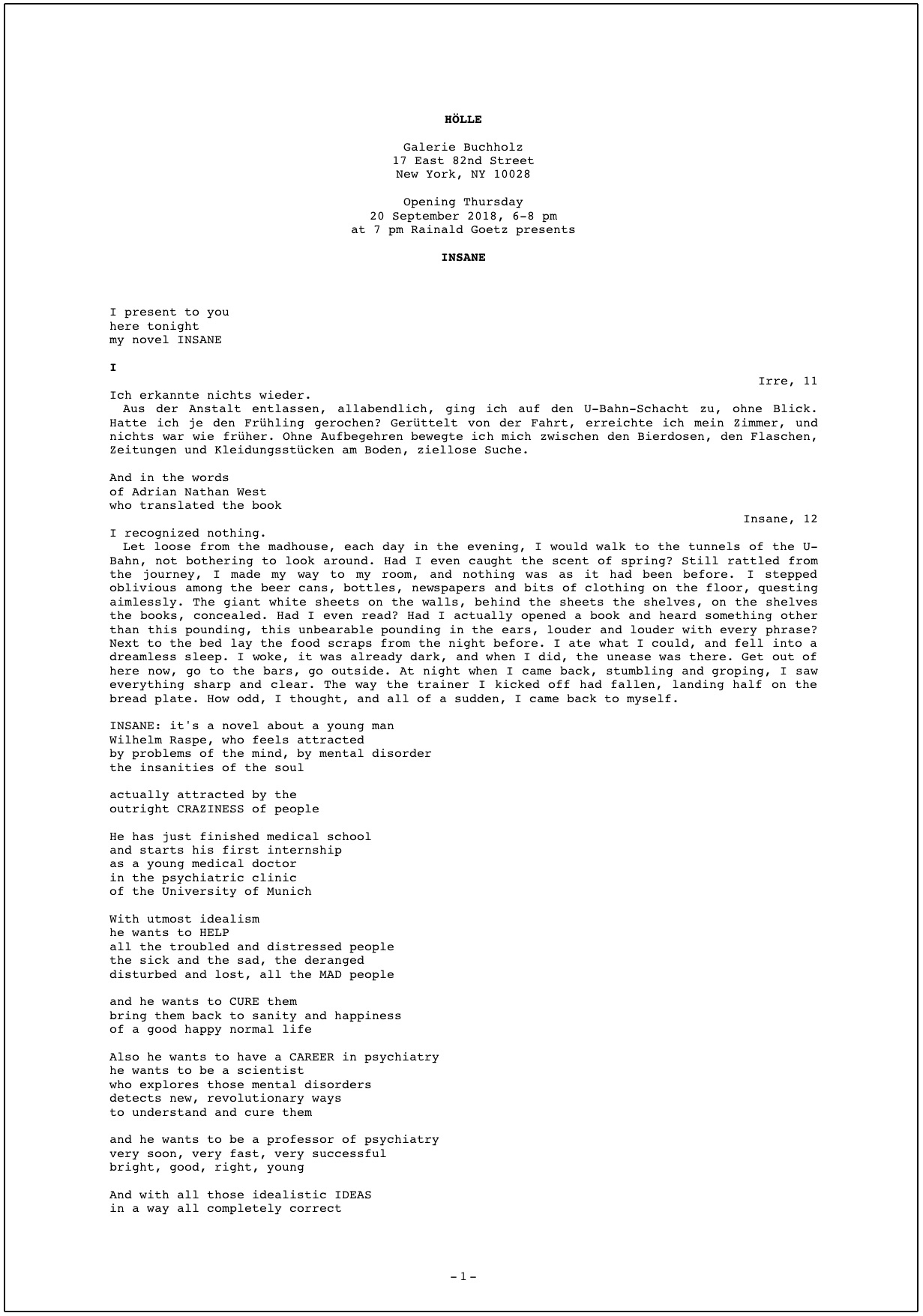 Rainald Goetz
Hölle

2019, poster, offset print, 59,5 x 63 cm

Euro 10,-
A poster with the transcript of Rainald Goetz's presentation of the English translation of his novel "Insane" on the occasion of the exhibition opening for the group exhibition "Hölle" in September 2018 at Galerie Buchholz New York.

Henrik Olesen
2019, 222 pages, Owrps, fully illustrated, 27 x 22 cm

Euro 45,-
Catalogue for Henrik Olesen's survey exhibition at Museo Nacional Centro de Arte Reina Sofía Madrid with new essays by Helena Tatay, Lars Bang Larsen, Paul B. Preciado and Dodie Bellamy. The catalogue is available in both English and Spanish editions.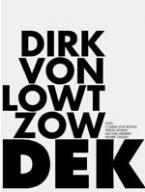 Dirk von Lowtzow
"Dekade 1993-2007"

2007, 112 pages, 16 colour plates, Owrps, 20 x 16,5 cm
Edition 800

out of print
Dirk von Lowtzow, singer and songwriter of the German band Tocotronic publishes in this book his collected song lyrics from the last 14 years. Dirk von Lowtzow invited his artist friends Cosima von Bonin, Sergej Jensen, Michael Krebber and Henrik Olesen to participate in this publication. The layout of the book has been developed in collaboration with Cosima von Bonin. All artists contribute colour plates of a special selection of works as an hommage to the band.
Henrik Olesen
"What is Authority?"

2002, 192 pages, Owrps, fully illustrated, 29,5 x 21 cm

out of print
First comprehensive catalogue on Henrik Olesen, published by Pork Salad Press / Jacob Fabricius in Copenhagen.