Lutz Bacher
Exhibitions at Galerie Buchholz
December 2021
Lutz Bacher
17 East 82nd Street, New York
August 2019
Lutz Bacher
FIREARMS
Neven-DuMont-Straße 17, Köln
September 2018
Lutz Bacher
Caleb Considine
Vincent Fecteau
Rainald Goetz
Sergej Jensen
Jutta Koether
Michael Krebber
Monica Majoli
Albert Oehlen
Henrik Olesen
Heji Shin
Hölle
17 East 82nd Street, New York
Lutz Bacher
Open the Kimono
Neven-DuMont-Straße 17, Köln
November 2017
Cosmic Communities:
Coming Out Into Outer Space –
Homofuturism, Applied Psychedelia & Magic Connectivity
an exhibition organized by
Diedrich Diederichsen &
Christopher Müller
feat. Marcus Behmer, Stefan George, Rainer Werner Fassbinder,
Hans Henny Jahnn, Lutz Bacher, Hans Kayser, Ludwig Gosewitz,
Jordan Belson, Hapshash and the Coloured Coat, The Fool,
Rogério Duarte, The Red Krayola/
Mayo Thompson, Walter de Maria, Sigmar Polke, Emil Schult,
Isaac Abrams, John McCracken, Pedro Bell, Kai Althoff,
Henrik Olesen, Öyvind Fahlström, Karlheinz Stockhausen,
Sun Ra, Hartmut Geerken, Albert Oehlen, Jack Goldstein,
Jutta Koether, Isa Genzken, Palermo, John Coltrane, Tony Conrad
17 East 82nd Street, New York
March 2017
Tomma Abts
Lutz Bacher
Trisha Donnelly
Vincent Fecteau
Mark Leckey
& Jack Goldstein
Hervé Guibert
Fasanenstraße 30, Berlin
July 2016
Lutz Bacher
Divine Transportation
Fasanenstraße 30, Berlin
March 2015
Presentation of the new publication
Lutz Bacher
"Shit for Brains"
Fasanenstraße 30, Berlin
May 2014
Lutz Bacher
"Homer"
Fasanenstraße 30, Berlin
April 2014
Lutz Bacher
Elisenstraße 4-6, Köln
Lutz Bacher
Sex with Strangers, 1986
Neven-DuMont-Straße 17, Köln
Publications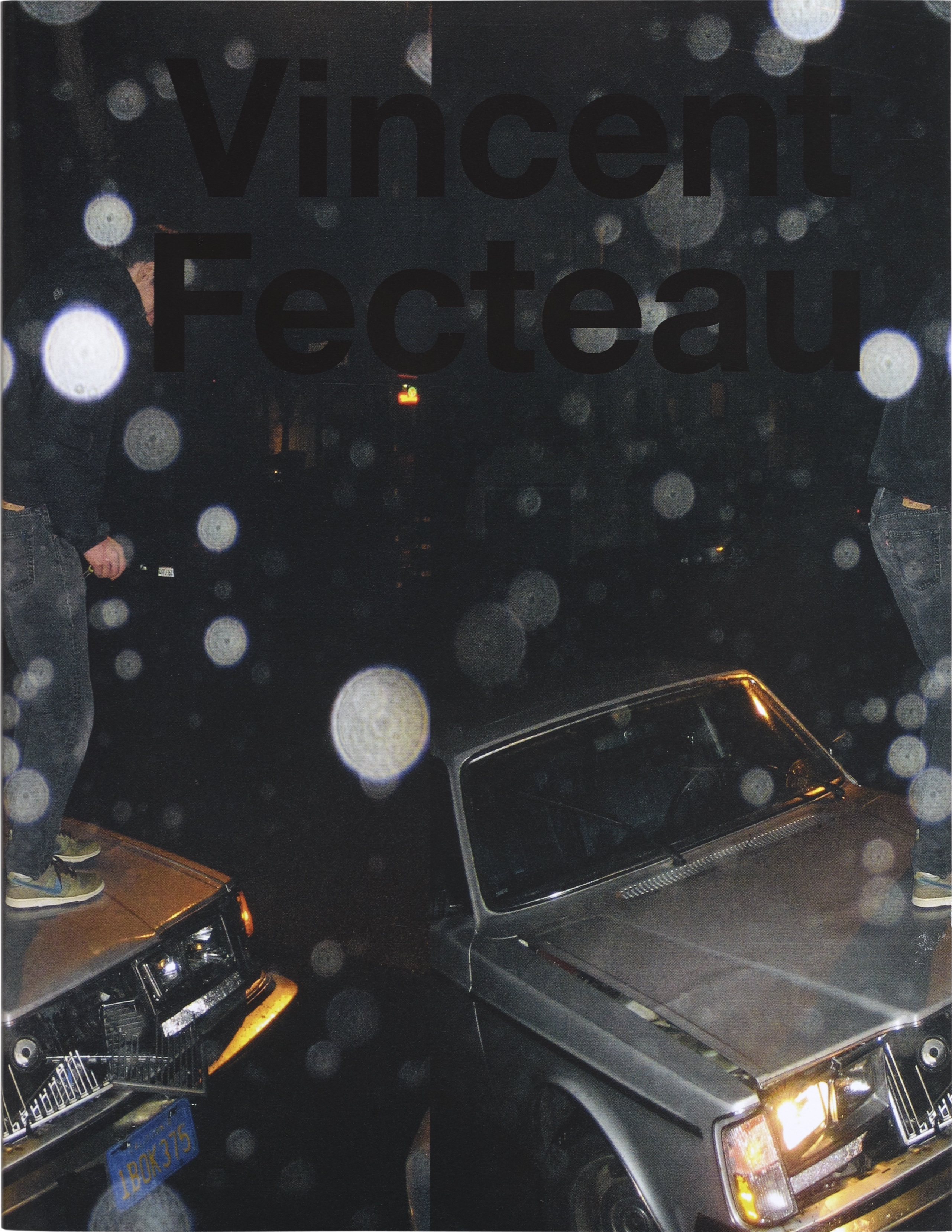 Vincent Fecteau
2021, 96 p., Owrps., dust jacket, fully illustrated, 22,5 x 17,5 cm

Euro 35,-

This catalogue is published on the occasion of Vincent Fecteau's exhibition at the Wattis Institute in San Francisco in the fall of 2019. Along with a group of new sculptures by Vincent Fecteau, the exhibition also featured two works by Lutz Bacher. The catalogue includes texts by Anthony Huberman, who curated the exhibition, Don Potts, Renny Pritikin and Fanny Singer.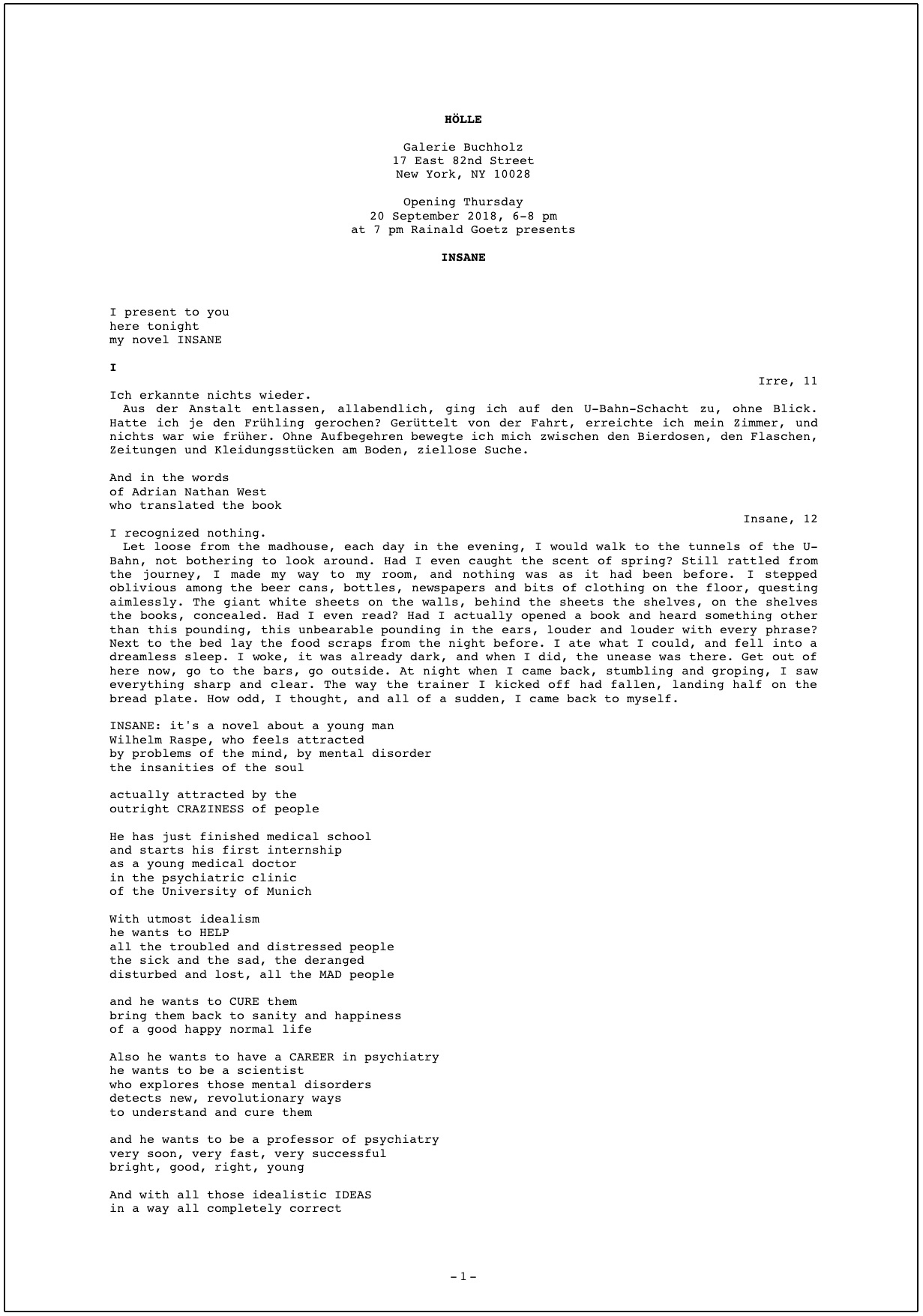 Rainald Goetz
Hölle

2019, poster, offset print, 59,5 x 63 cm

Euro 10,-
A poster with the transcript of Rainald Goetz's presentation of the English translation of his novel "Insane" on the occasion of the exhibition opening for the group exhibition "Hölle" in September 2018 at Galerie Buchholz New York.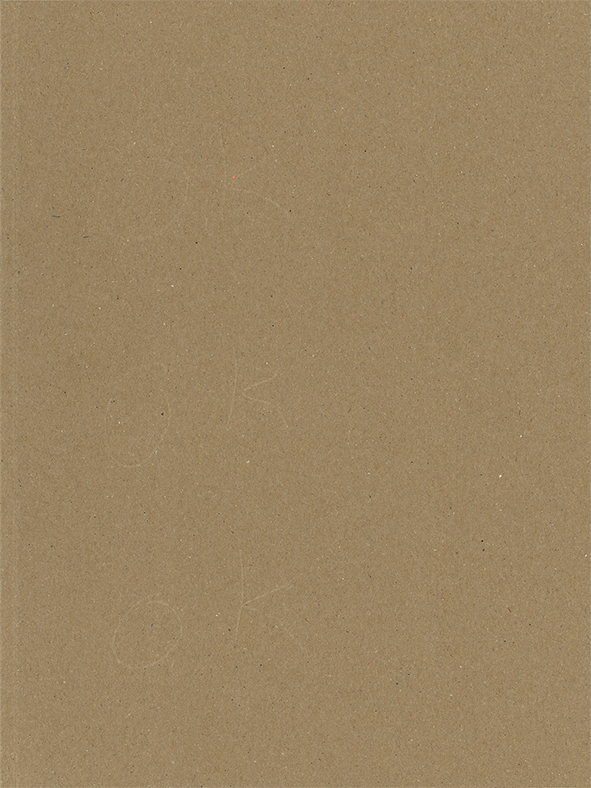 Lutz Bacher
"Open the Kimono"

2018, 312 pages, Owrps, 30,5 x 22,5 cm

Euro 28,-

"Open the Kimono" is a chronological record of some remarks from cable TV ads movies news radio novels airplanes subways sidewalks and elevators from 2013-2018.
Lutz Bacher
"Shit For Brains"

2015, 404 pages, Owrps, 30,3 x 22,7 cm
Edition 800

Euro 38,-
Lutz Bacher wrote this novel in August 2010 in California.